Do you regularly eat vine-ripened tomatoes? There is no argument that tomatoes which are left to ripen on the vine have the best flavour of all. But how many of us are fortunate to have ready access to them?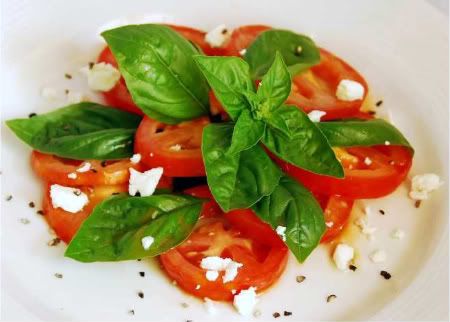 I remember the first time I tasted one. I was 16 ( really just the other day;-) I was hiking with friends and we ran out of water. There was a farmer in a nearby field of tomatoes and we stopped to ask if he had any. He didn't but invited us to have a tomato to slack our thirst until we got back to where we had parked our vehicles. "They are ripe and juicy." he assured. I scrunched up my face. A tart, acidic, tomato was not what I would call a thirst quencher. However, due to an absence of any other liquid options on that burning, asphalt, country-road and with at least another mile of walking in tropic heat and humidity ahead of me, I bit into my first vine-ripened tomato. Cue the Seraphims - heavens choir of angels. Ahhhhhhhhhh! My senses were thrown into confusion as my taste buds registered sugary sweet, at the same time that my brain was bracing to be assaulted by sour.
So here we are in the present. I still dream of that tomato but live in the real world. That farmer's field is on a treacherous mountain road, accessible only on foot or with a 4 X 4 vehicle. The supermarket is closer and air-conditioned.
At the farmers market, there is one stall that sells organic and sometimes vine-ripened tomatoes but the demand is great. Might I add that it is the rainy season and this market is largely open to the elements. The supermarket is air-conditioned, has a roof, and I don't have to beat off hoards of people with a machete to get to the fruit and vegetables. Yes, the market is always the better place for fresh produce but I have to get up at 5:00am to get the best stuff and beat the heat. Let's be honest, some Saturdays wouldn't you rather sleep late?
So for those less than perfect tomatoes and catching up on some sleep weekends, I offer you a vinaigrette that is seriously the best thing that ever happened to supermarket ripened tomatoes.
This recipe was featured in "Island Life" magazine. I've long forgotten the issue but the recipe has stayed with me. It is a salad from the Kariwak Hotel in Tobago where I can only surmise that the chef may not have had a reliable supply of perfect tomatoes. Some of the ingredients seem to be superfluous. For example the Dijon Mustard and mustard powder, the red wine vinegar and balsamic vinegar seem to be flavours that repeat themselves. Still, who am I to argue with someone who went to cooking school and created something that improves upon my less than perfect non vine-ripened tomatoes.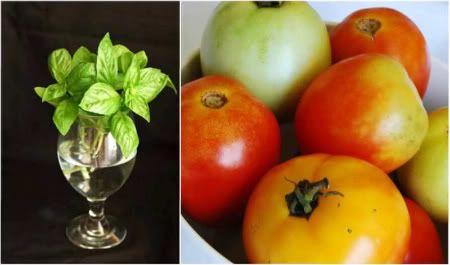 The Best thing that Ever Happened to Tomatoes Vinaigrette
Ingredients
* 6 ripe tomatoes, sliced
* 5 garlic cloves (minced)
* 1/2 cup chopped basil
* 3 tablespoons red wine vinegar
* 2 tablespoons ketchup
* 1 tablespoon balsamic vinegar
* 1 1/2 tablespoons brown sugar
* 1/2 teaspoon Worcestershire sauce
* 1/2 teaspoon dry mustard
* 1/2 teaspoon Dijon mustard
* 1/2 cup light vegetable oil
* salt (to taste)
* black pepper (to taste)
* Caribbean pepper sauce (to taste) (optional)
Whisk all dressing ingredients together except oil and basil.
Drizzle in oil, whisking constantly.
Add salt and black pepper to taste.
Stir in basil.
Arrange tomato slices on a salad plate and spoon dressing over slices.
Cover and chill.
Garnish with fresh basil leaves.
If you desire serve over fresh bed of lettuce.