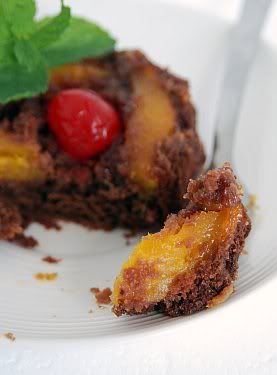 My dad brought me a last bag of mangoes. I was so excited that I did not notice until the following day, he was limping. It turns out that he had climbed the mango tree to get the very last mangoes in the topmost branches. He quickly sought to reassure me that he hadn't fallen out of the tree but had only slipped. This was said with the cheeky grin of an impish boy. There was a twinkle in his eyes. Uhhmmm dad you are 72 years old! You are too old to be climbing trees! I scolded, I preached, I ranted at his folly. In my heart though I understood, for who among us can resist the lure of a mango's intoxicating perfume? Those cherub, yellow cheeks with just a blush of rose are so like babies' cheeks, just ripe for biting.
It's the end of the mango season. My heart is heavy as I prepare to say goodbye to my favourite fruit. I was cutting up and freezing some mangoes when it occurred to me that over the past several months I haven't done anything other than eat them as they are, or purée them for the baby. I know, I know, how terribly boring. But I am of the view that there is no better way to enjoy a mango than the way nature intended.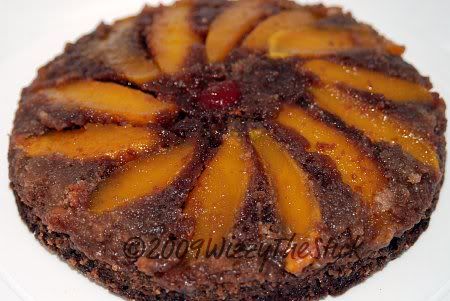 In the past I have tried various mango tarts and puddings. I can honestly say that I do not like the flavour or texture of a cooked ripe mango. The natural sugars concentrate into a cloying sweet mush - bleh! What I needed was something to offset the overbearing sweetness of the cooked mango. I decided on a rich chocolate. The cake is moist and brownie like. The cake looks so thin because I took some of the batter to make three individual sized cakes for snacking - this kept the DH at bay while I took the photos. In my opinion the only thing missing was to serve this with clotted cream to truly put this over the top. However the cake was done before I could run to the store and buy some.
Mango Chocolate Gâteau
Mango Topping
3 ripe but firm mangoes (sliced as you prefer)
2 teaspoons lemon juice
1/4 cup butter
1/2 cup sugar ( I will use less next time)
Slice mango and sprinkle with lemon juice. Melt butter in a small saucepan. Add sugar. Spread the butter sugar mixture on the bottom of a non-stick round 9" cake pan. Arrange mango slices and pour cake batter on top.
Cake Ingredients
1 cup flour
1 cup sugar
1/4 cup unsweetened cocoa powder (use a good quality brand)
1 teaspoon baking powder
1/4 teaspoon baking soda
1/4 teaspoon salt
3/4 cup buttermilk
1/4 cup shortening (melted)
1/2 teaspoon vanilla
1 egg
Instructions
In a bowl combine flour, sugar, cocoa powder, baking powder, baking soda, and salt. Add milk, cooled melted shortening and vanilla. Beat with an electric mixer on low speed till combined. Beat on medium speed for 2 minutes. Add egg and beat 2 minutes more. Pour over the mango slices into non stick 9" round cake pan.
Bake in a 350 degree oven for 30 to 35 minutes or until a toothpick inserted in the center comes out clean. Cool on rack for 10 minutes. Remove from pan and cool thoroughly on a rack.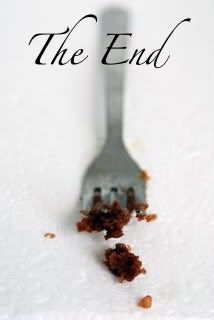 The End.
There are no more mangoes.
Say hello to my new BFF, pomme de cythère, just coming into season.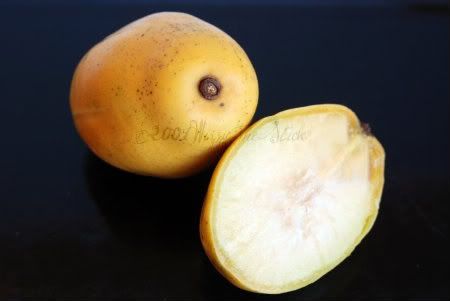 What can I say? My love is fickle smile:-)