When you are in love, research has shown that a large part of the cerebral cortex which is responsible for judgement and reasoning is deactivated to the point where you do stupid things. It can be argued that the same thing happens when one is inebriated. In my case it's just my innate weirdness gene and neither of the aforementioned that made me decide to grow my own mint for the sole purpose of making my own mojitos.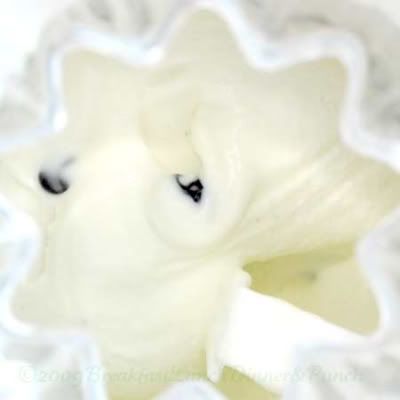 Years ago, my good friend D introduced me to the mojito and I fell in love. Unfortunately, it isn't very often that I find a place that serves them because fresh mint is only sporadically available here - if at all.
Finding a mint plant was easy. The garden shops have a good supply of a few varieties, spearmint, chocolate mint, and ordinary mint. Growing it is not so hard. It doesn't do well in our full Caribbean sun but seems to prefer filtered light. The good news is that if you don't have a green thumb it bounces back easily from periods of drought i.e when you have forgotten to water it.
Why then is this a post about ice-cream and not a highball glass, beaded with condensation from a lovely cold mojito? In short, dear friends, I do not own a muddler. In the event that you even care about my mojito dilema let me describe a muddler for you. As much as I am tempted to use the term to describe a particular Minister who sought to defend his Ministry's purchase of a 2 million dollar flag - a muddler is not a politician.
Our Minister of Sport recently attempted to clarify for the public that the flag only cost $18,000 while the design and engineering brought the total cost to 2 million dollars. The design and engineering of the flagpole should not be considered a part of the cost of the flag. That was a separate cost entirely. Mr. Minister further muddled the issue by suggesting that citizens should not protest the asstronomical cost (not a typo). Instead we should rejoice with the national pride that this flag was meant to inspire. Befuddled are we?
Let me clarify.
This is a muddler
(Sis, you may consider gifting me with one;-)
This is NOT a muddler (though it may behave like one)
As much as one is tempted to think otherwise - a muddler is in fact a doohicky that one uses to bruise the leaves and release the oils of the mint into your drink.
In my quest to become my own mojito barrista, I discovered that chopping the mint leaves in a blender does not work. Additionally, your loved ones don't tell you that you have leaf bits stuck between your teeth, preferring instead to make jokes to get you to smile even more.
Fresh Mint Chocolate Chip Ice-cream
2 1/2 cups light cream, half-and-half or milk (whole or skim), or a combination
1/2 cup sugar
Pinch of salt
3 cups of fresh mint leaves (not stems), rinsed, drained, packed
1 teaspoon vanilla extract
3 tablespoons cornstarch
3 quarter cups chocolate chips
1. Put the mint leaves in a heavy saucepan with 2 cups cream, half-and-half or milk, in a saucepan over medium-low heat. Heat until just steaming (do not let boil), remove from heat, cover, and let stand for 30 minutes. Reheat the mixture until steaming add the sugar and salt. Stir until the sugar is dissolved. Remove from heat and let stand for 15 more minutes.
2. Strain the milk cream mixture into a bowl, pressing against the mint leaves with a wooden spoon to get the most liquid out of them. Return the milk cream mixture to the saucepan. In a bowl, blend cornstarch with remaining 1/2 cup cream, half-and-half or milk; there should be no lumps. Add cornstarch mixture to pot. Cook, stirring, until it starts to thicken and barely reaches a boil, about 5 minutes. Immediately reduce heat to very low and stir for 5 minutes or so until thick. Stir in vanilla extract.
3. If mixture has lumps, strain it into a bowl. Chill until cool, When cooled, pour into an ice cream machine and freeze according to the manufacturer's instructions. Add chocolate chips according to the manufacturers instructions - usually in the last 10 - 5 mins of churning.
Yield: 1 generous pint.
For the above recipe I consulted with my BIFFL (Best Internet Friend's for life)
Mark Bittman, David Lebovitz
and
Elise Bauer
. Awwright, Awwright so these people don't actually know that I exist but I visit their sites often enough. Isn't it strange that social networking has in a sense legitimized stalking? Anyway my BIFFLS inspire me with their recipes and I am in awe of their curiosity about and skill with food. These guys have such a large following of fans, that I am a little bit afraid to be anything less than adoring of their use of fresh mint in ice-cream. Still, friends tell friends the truth don't they? So here is how our conversation went....
Elise
:
The taste of the ice cream using fresh mint really is out of this world, so if you can get your hands on fresh mint, I highly recommend using it for this ice cream.
Wizzy
: Elise, you know you are my girl and fresh ingredients are the best but the next time I'm going for the peppermint oil.
David
:
Strain the mint-infused mixture through a mesh strainer into a medium saucepan (the milk will be a lovely shade of emerald).
Wizzy
:
Dav-ee-d
, Mah boy! Pants on Fire, NO IT WILL NOT!
David:
W - ee -zy, I don't want to say that you are culinary challenged so I will suggest instead that maybe your mint was chlorophyll challenged.
Robin Lee
:
It couldn't only be for me that eating fresh mint ice cream killed the desire to eat the regular stuff that I grew up on ever again.
Wizzy
: Girlfriend, I tried to go there with you and David. You are my BIFFL after all. Sadly it was not to be. Fresh mint tastes like grass. Fresh minty grass but there is the unmistakable grass flavour which in my very unimportant opinion, is just so wrong in any dessert.
Mark
:
Yield, 1 generous pint.

Wizzy
: Thanks, but I'll not be taking you up on that offer for ice-cream at your house.
Your cornstarch ice-cream base has made me a star
but when talking ice-cream, a pint cannot be described as generous. It's just a scant two cups, man.